... Diesmal mit

Nelly Furtado
Diesmal werde ich die Künstlerin Nelly Furtado
in

der Rubrik - Albumtracks die nie Singles wurden ...
in Blick

punkt rücken.
Nelly veröffentlichte letzten Monat das
Album "

The

S

pirit indestructible"
das für mich einfach klasse gewor

den ist.
Fangen wir an !
Whoa, Nelly

! war eine tolle Ära muss man sagen.Perfekte Singleauskopplungen.
Einer meiner Lieblingstra

cks vom
Album ist aber "Well, Well"

und hätte ich mir
sehr noch als Single gewünscht

.
> "One Trick, Pony

"

&
"Fre
sh off The Beat"
Ich glaube bei diesen Album hätte ich alle
Songs aufschreiben k

önnen.
Ein perfektes Album für mich wie ihr Debütalbum "Whoa, Nelly!

".
Von dieser Album Ära

nicht merkern, hätte bloß "Froca" weggelassen auch wenn es die Hymne von EM 2004 in Portugal war. Das ist für mich der absoulte

Nervsong von Nelly.
Da hätte ich lieber noch "One Trick, Pony" oder "Fresh off The Beat" gehab

t.
"Glow" <
Diese Ära ist unvergessen und schwierig eigentlich zusagen welcher Song noch hätte veröffentlichen sollen, weil Nelly Furtado fast das ganze Album veröffentlicht

hat.
Aber mein absoulte Lieblingss

ong vom Album wurde nicht veröffentlicht."Glow".
Der Track kann ich mich noch erinnern das der erste Song der gleich im Gedäc

hnis geblieben ist beim ersten reinhören des Albums.
Bei diesen Album wurden die Songs veröffentlicht die gut fand vom

Album.
"Mi Plan" war aber irgendwie nix für mich ich li

ebe eher die englisch singende Nelly Furtado lieber.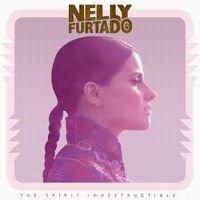 5.

The Spirit Indestructible
Diese Ära ist ja Mitten drin, muss sagen für mich hat Nelly bis jetzt nicht enttäuscht

.
Nur Schade das der Erfolg aus

bleibt.
Ich hoffe das die nächste Single "Waiting for The Night" hier was reißen wird und somit vielleicht nochmal steigt das Alb

um.
Das wars mit

dem heutigen Post.
Welchen Künstler soll ich al

s nächstes nehmen
oder welches Al

bum sollte ich mal bewerten ??
Wie findet ihr die Alben von Nelly Furtad

o ?